Mortar, Grout, Stucco, LEEDS points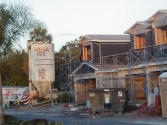 Exceptionally convenient and easy, Mega Mixers quickly produce mortars, grouts, stuccos, and dry packs increasing job site productivity, cleanliness, and safety, which means better profits. Mega Mixers produces a consistent quality mix throughout the entire job, eliminating problems caused by poor mixing and poor workmanship due to inconsistent mixes.
---
Mega Mix: portable delivery systems to own or rent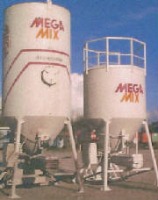 The green clean machines that add points and credits to your projects! These silos are the most innovative cost efficient use of materials available to deliver dry bulk materials that consistently produces quality on site products meeting all ASTM, architectural, and engineering standards while substantially increasing productivity, eliminating landfill waste and providing a safer, cleaner job site.
---
Mud Man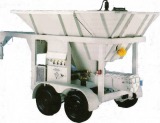 Mud Man is a portable, self-contained, material mixing and delivery unit. Mud Man offers customers the ability to move product around jobsites with no material handling, and eliminating piles of sand and cement. This reduces costs, waste and cleanup time. You can expect quality and a consistently mixed product with this versatile delivery-mixing unit. Mixer controls are set at delivery to meet engineering specifications. Water can be adjusted to satisfy applicators' workability needs at the site. Mud Man's design protects material from contamination and loss from handling bags, theft and weather.
---
Tile Dry Pack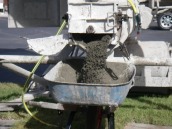 Mud Man Mixers automatically produce dry pack and fills a wheel barrow in about one minute significantly increasing jobsite productivity and profits. No more hand mixing, sand piles, bags, or clean up. Fibers, mildew and water resistant additives can be added to the mix per architects request meeting project specifications and warrantees.
---
Bulk Bags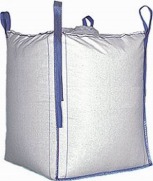 We offer a complete bulk bagging system. Our customers can have any product or any blended product in their own bag or bag provided. There are no minimum bag quantities nor minimum product quantities for blending. Small paper sack packing is also available.
---
---
Mega Mix also offers the following services and websites:
Well Drillers Services


---

Silo Rentals Environmental Remediation

---
---
Equipment for sale
Custom design and fabrication, and used equipment for sale. Sand blasting, painting, and mechanical repairs are services readily available at our Tampa, Florida location
---
---
Contact:

Mega Mix, 1902 North 69th Street, Tampa Fl 33619

Terry Dailey 727-560-6368(cell) 813-623-3194(office)

Email

megamix@mail.com